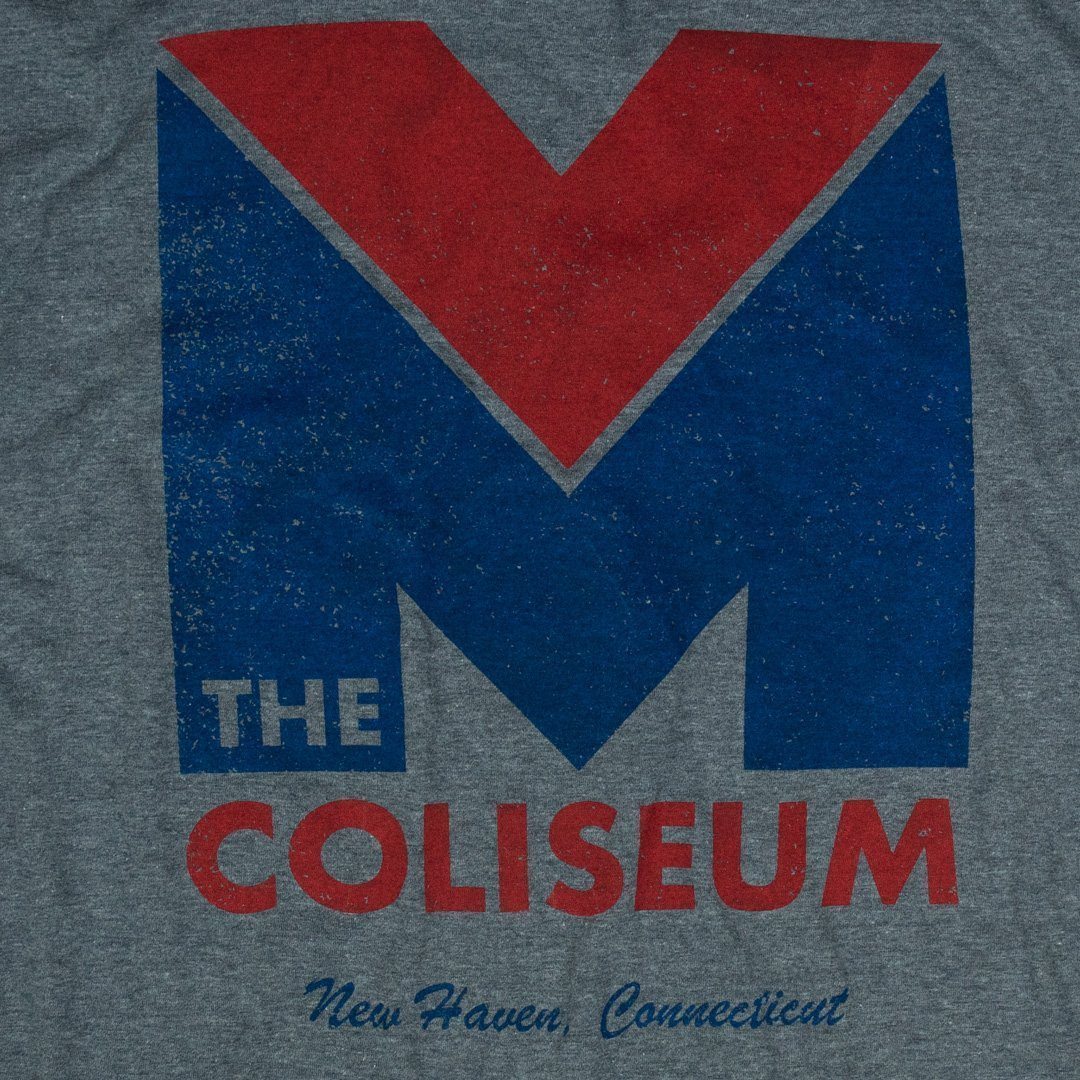 Super soft t-shirt inspired by the New Haven Coliseum. 50/50 cotton-poly blend. Made and printed in the USA. Velvety Local Vyntage logo on right sleeve.  This t-shirt is now tag-less.
The New Haven Coliseum, or just "the Coliseum" to locals, originally opened in 1972. The large V and M in the t-shirt design come from Coliseum's official name: "New Haven Veterans Memorial Coliseum".
Due to it's unique construction including a parking garage above the actual coliseum, some might not have considered it very aesthetically pleasing. But with the tremendous number of great events held here over the years, it quickly became a beloved fixture in New Haven.
The New Haven Nighthawks made their home ice at the Coliseum, as did a number of other amateur sports franchises. UCONN basketball played some home games here, as did Yale. Nearby Pro basketball teams like the Knicks and Nets have also played here.
Perhaps most impressive of all were the musical acts. Far too many to name, but that long list includes names like AC/DC, Aerosmith, Chicago, David Bowie, Eagles, Elvis Presley, Eric Clapton, Frank Sinatra, Garth Brooks, Madonna, Metallica, Tom Petty, Bruce Springsteen and Van Halen.
The Coliseum also hosted other types of events, like monster truck shows, WWF/WWE, Ice Capades, Disney on Ice, Harlem Globetrotters and the Ringling Brothers and Barnum & Bailey Circus.
The Coliseum and all the great times had there will continue to be missed by many. It's final event was fitting: WWE professional wresting, which considered the Coliseum it's home arena. Five years after the Coliseum was closed in 2002, the structure was imploded.
We're very proud to help you share Connecticut memories.
Customers say our t-shirts run slightly small.
For most men we recommend ordering the next size up, especially if you're ever between sizes or prefer a looser fit.
For most women we recommend ordering the same size as your regular women's size
, but if you prefer a tighter fit you may want to order one size down.
Our t-shirts are premium 50/50 blends (cotton/polyester), giving them that buttery-soft feel you're looking for!
| Unisex Tees | CHEST | LENGTH |
| --- | --- | --- |
| XS | 28" | 26" |
| S | 32" | 27" |
| M | 36" | 28" |
| L | 40" | 29" |
| XL | 44" | 30" |
| 2X | 48" | 31" |
| 3X | 56" | 32" |
| 4X | 60" | 33" |